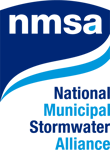 2NDNATURE is Partnering with NMSA
2NDNATURE has partnered with the National Municipal Stormwater Alliance (NMSA) to distribute the WEF SWI MS4 Needs Assessment Survey.
The information from this survey will inform:
initiatives and discussions with members of Congress,

data needs for the new stormwater category within the ASCE Infrastructure Report Card,

discussions between MS4 permittees and USEPA staff,

identification and prioritization of stormwater research needs,

the work of the EPA Stormwater Finance Workgroup, and

a better understanding of the challenges for local MS4 programs and the measures to address them.
All responses are completely anonymous. The survey should only take 15 minutes to complete, and all participants will be entered in a drawing to win a $50 Visa gift car

d.
Enter your contact information below to access the WEF SWI MS4 Needs Assessment Survey.